Proforma Screening Solutions Partners with PowerSchool's PeopleAdmin to Streamline Talent Acquisition and Employment Screening for Higher Education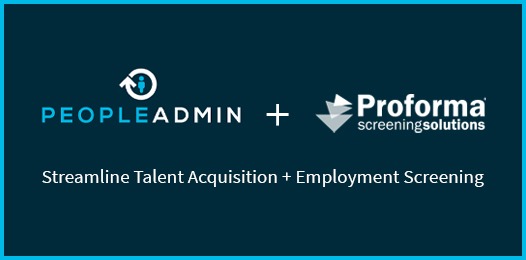 The partnership gives higher education institutions direct access to Proforma Screening Solutions' industry-leading employment screening services through the PeopleAdmin HigherEd Platform.
Purcellville, VA, September 09, 2019 – Leading employment screening firm, Proforma Screening Solutions, a Lowers Risk Group company, announces a newly-formed partnership with PeopleAdmin, the leader in SaaS-based higher education solutions. The partnership features an upcoming integration between Proforma Screening Solutions and the PeopleAdmin HigherEd Platform via PACx (PeopleAdmin Connector Framework) which will enable customers to streamline the critical process of employment screening.
The integration will empower colleges, universities, and other educational institutions to speed time-to-hire, increase staff productivity, and enhance the candidate experience by ordering Proforma's services right within the PeopleAdmin platform.
Craig Caddell, Vice President, Strategic Alliances at Proforma Screening Solutions remarked, "PeopleAdmin is a pioneer in talent management for higher education and they share our commitment to helping customers create safer environments for students, employees, and the public at large. As institutions look to build a qualified workforce, they also want to remove unnecessary friction when it comes to communication, compliance, and the applicant experience. We look forward to doing our part to deliver on these expectations and more."
Highlights of Proforma Screening Solutions and PeopleAdmin integration via PACx include:
Seamless, single sign-on access to employment screening services, directly within the PeopleAdmin interface.
Candidate self-service access to facilitate background check authorizations and status updates.
Comprehensive screening services and compliance support from an accredited background screening provider.
Transparency into the metrics and information needed to make better hiring decisions and better manage the expectations of hiring managers and candidates.
Rishi Rana, General Manager, at PeopleAdmin remarked, "This connector between Proforma and PeopleAdmin is well under way, and we are excited to be able to provide interoperability, efficiency, and increased value to our joint customers with a seamless background screening process."
About Proforma Screening Solutions
A division of Lowers Risk Group, a leading provider of enterprise risk management solutions, Proforma Screening Soulutions delivers a comprehensive suite of employment screening services to help companies make better hiring decisions. Accredited by the National Association of Professional Background Screeners and founded by industry veterans, Proforma Screening Solutions is the ideal partner for companies operating in high-risk, highly-regulated environments and for those who place a high value on risk mitigation. For more information, visit Proforma Screening Solutions at www.proformascreening.com.
About PeopleAdmin
PeopleAdmin, a PowerSchool company, is a recognized leader in higher education solutions. Our SaaS-based solutions enable organizations to simplify their talent management process while utilizing industry-leading analytics. More than 700 institutions rely on PeopleAdmin. That's why our mission is to power the education ecosystem with unified technology that helps educators and students realize their potential, in their way. Visit peopleadmin.com to learn more.