Monika Perez Promoted to Vice President at Lowers Forensics International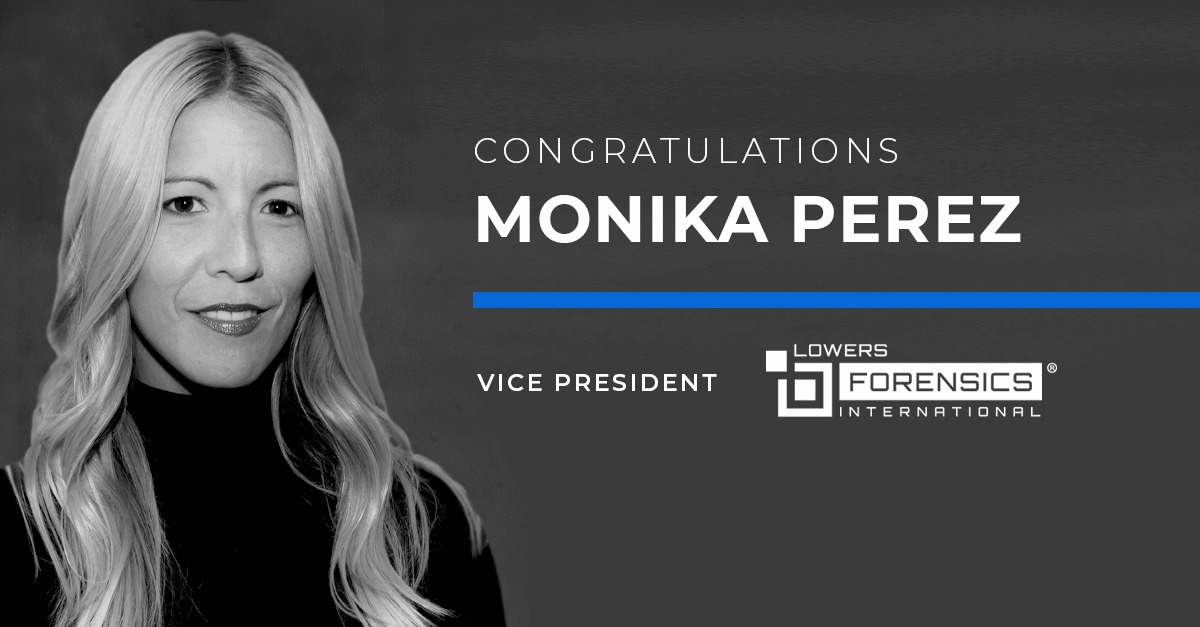 Monika Perez, CPA, CFE, joined Lowers Forensics International in 2018 as a senior manager and was recently promoted to vice president.
September 9, 2021 (Purcellville, VA) – Lowers Forensics International (LFI), a globally trusted forensic accounting and risk mitigation firm, is pleased to announce the promotion of Monika Perez, CPA, CFE, formerly senior manager, to vice president. Ms. Perez is a Certified Public Accountant and Certified Fraud Examiner with experience applying accounting and investigative skills to evaluate property and cyber business interruption claims  and disputes for clients in the insurance market and involved in litigation. Fluent in English and Spanish, Monika has worked on a variety of claims, valued in excess of $50 million, throughout the United States and Latin America.
In her new role as vice president, Perez will continue to build her client base and provide quality services that LFI customers have come to expect.
"This promotion is a recognition of Monika's outstanding work and leadership," remarks Marc Johnson, president of Lowers Forensics International. "In her short time at LFI, Monika has been instrumental in driving the firm's growth and exceeding client expectations during unprecedented times."
Perez has evaluated economic damages in claims from a variety of industries including, food and beverage processing, energy, gaming, manufacturing, professional services, warehousing and distribution, oil, gas and petrochemicals, hospitality, leisure and tourism, healthcare and pharmaceuticals, retail, and restaurant.
Prior to joining Lowers Forensics International in 2018, Perez was a senior forensic accountant turned supervisor at RGL Forensics and worked at C. Lewis & Company, LLP which serviced the insurance and legal industry. She is a member of the Association of Certified Fraud Examiners (ACFE) and the Association of Professional Insurance Women Licenses.
About Lowers Forensics International
Lowers Forensics International is a globally trusted financial forensics and risk mitigation firm that proudly operates under the Lowers Risk Group family of companies. The firm is internationally recognized for work across a broad range of issues, including insurance claims accounting, international investigations, litigation and disputes, intelligence and security, and anti-fraud. With the expertise of its people at the forefront, Lowers Forensics applies leading-edge technology to deliver precise insight and value to clients. When it really matters, organizations put Lowers Forensics on their side. Learn more at lowersforensics.com.
Media Contact
Michael Gaul
EVP, Marketing
Lowers Risk Group
mgaul@lowersriskgroup.com
(540) 338-7151