Lowers Forensics International Taps Karl Weisheit as Senior Vice President – Director of Litigation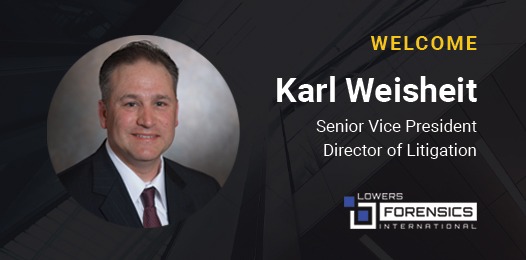 The financial forensics firm continues its expansion by hiring Karl Weisheit to head up its litigation services team.
Lowers Forensics International, a globally-recognized financial forensics firm headquartered in Northern Virginia, today announces the appointment of Karl Weisheit, CPA, CFF, CVA as Senior Vice President – Director of Litigation. The new position will support the continued growth of Lowers Forensics International in the area of litigation services.
Weisheit is a forensic accountant with more than 30 years of public accounting, consulting, and management experience. As Senior Vice President – Director of Litigation at Lowers Forensics International, Karl will focus on calculating and analyzing damage claims, providing testimony as a financial damages expert witness in federal and state courts, and supporting clients in arbitration proceedings. Karl has authored numerous reports and provided expert witness services to attorneys in trial settings, including the preparation for and rebuttal of opposing experts.
"We are pleased to welcome Karl to our growing team of forensic accountants. His proven track record in the area of litigation services will deliver big benefits to our clients who require a strong case backed by sound numbers and persuasive evidence," remarks Marc Johnson, President of Lowers Forensics International.
Weisheit is a Certified Public Accountant (CPA) licensed in both Texas and Louisiana. He is also Certified in Financial Forensics (CFF) and a Certified Valuation Analyst (CVA). He is a member of the American Institute of Certified Public Accountants, the Texas Society of Certified Public Accountants, the Society of Louisiana Certified Public Accountants, and the National Association of Certified Valuators and Analysts. He earned a bachelor's degree in accounting from Nicholls State University.
To reach Karl Weisheit call (214) 621-0658 or visit lowersforensics.com.
About Lowers Forensics International, LLC
Lowers Forensics International is a financial forensics firm offering expertise in insurance claims accounting, litigation services, investigative services, and expert testimony to support organizations worldwide. The company maintains offices across the globe to serve the needs of insurance companies, attorneys, and private and public entities in order to transform complex financial information into clear evidence.
For more information about Lowers Forensics International, visit lowersforensics.com.