Brittany Vild to Lead New San Diego Office as Vice President of Litigation for Lowers Forensics International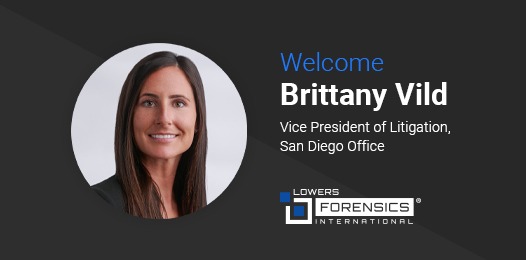 Financial forensics firm, Lowers Forensics International, announces its new office opening in San Diego, naming Brittany Vild to lead the local team and serve as Vice President of Litigation for the firm.
March 17, 2020 (Purcellville, VA) — Lowers Forensics International, a globally-recognized financial forensics firm, today announces its continued global expansion with the opening of its San Diego office and hiring of Brittany Vild, CPA to head the new location and serve as Vice President of Litigation for the firm.
The San Diego office represents the 10th new office opening for Lowers Forensics International since the summer of 2018.
"We have been looking at Southern California and San Diego as an important new location for our firm as we strive to continually meet the needs of our global clientele and provide convenient access points for clients to tap into our services," explains Marc Johnson, President of Lowers Forensics International. "We are proud to have Brittany's leadership and experience to lead our efforts forward in Southern California."
Vild is a forensic accountant with experience in public accounting, corporate accounting, and forensic accounting, with a special focus on litigation consulting within family law. She has served as an expert forensic accounting witness in the San Diego Superior Court and has performed a wide range of litigation accounting services including determining income available for support, lifestyle analyses, and real property allocations.
Having started her accounting career in the audit department at PwC, she brings a wide range of experience across industries, including biotechnology, telecommunication, retail, and scientific research. She subsequently began to specialize in the field of family law at Gursey Schneider, LLP, with a focus on high net worth marital estates. Prior to joining Lowers Forensics International, Vild was part of the team that started the in-house forensic accounting department at Antonyan Miranda, LLP, one of the largest family law firms in Southern California.
At Lowers Forensics International, Vild will focus her efforts on building the firm's capabilities around litigation support. She will also lead the San Diego team, ensuring excellence in customer engagement and service delivery.
To reach Brittany Vild call her mobile at 858-731-7259, call her toll free at 833-456-9377 x 5444, or visit lowersforensics.com.
About Lowers Forensics International, LLC
Lowers Forensics International is a financial forensics firm offering expertise in insurance claims accounting, litigation support, investigative services, and expert testimony to support organizations worldwide. The company maintains offices across the globe to serve the needs of insurance companies, attorneys, and private and public entities in order to transform complex financial information into clear evidence.
For more information about Lowers Forensics International, visit lowersforensics.com.