Adjusteck and Team One Enter a Formal Strategic Partnership to Offer Comprehensive Loss Adjusting Services Across All 50 States in the US, Powered by Technology-Based Solutions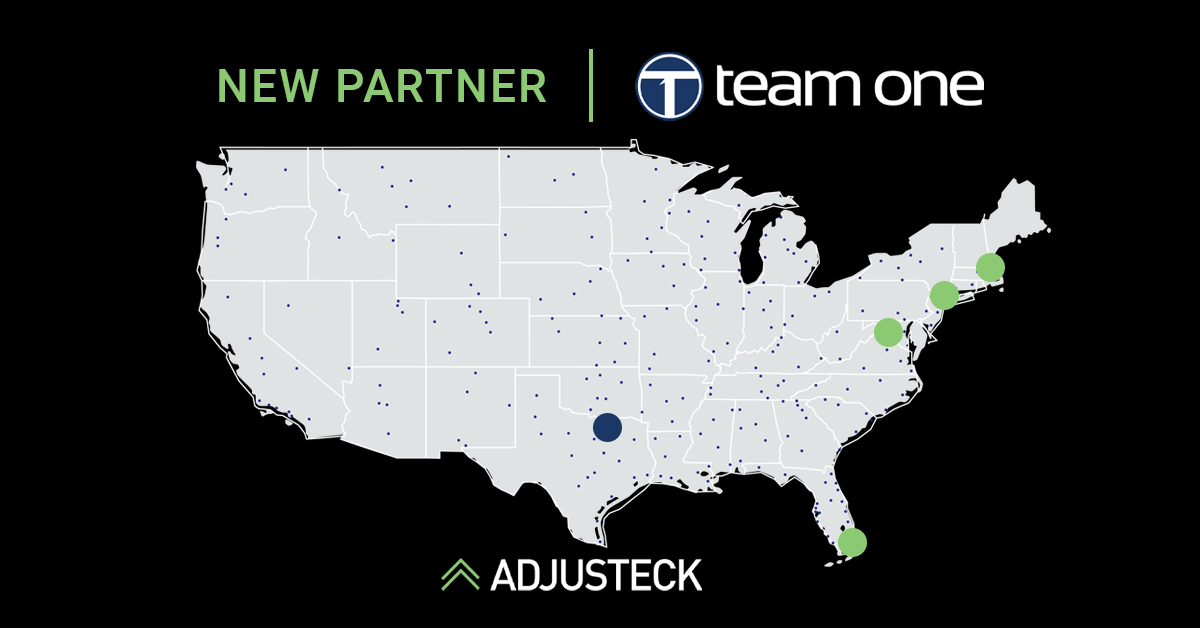 Purcellville, VA (November 8, 2021) – Adjusteck, an international loss adjusting firm headquartered in London and serving the global insurance market, is pleased to announce its new strategic partnership with Team One Adjusting Services, LLC ("Team One"), a U.S.-based independent adjusting and claims services business, headquartered in Texas.
The partnership builds on Adjusteck's technology-driven approach to loss-adjusting, and with Team One's broad footprint and extensive field network, Adjusteck can now offer its clients independent adjusting services in all 50 states.
Team One's competency in providing scaled solutions for mid-sized commercial P&C claims, and catastrophe losses complements Adjusteck's focus on technical and complex/major loss claims handling, which will further augment its services to clients in the domestic U.S. and London insurance markets.
The collaboration between the two firms creates a field network capable of handling a broad range of claims in size and complexity, national accounts, as well as catastrophe claims, with a dedicated and centralized catastrophe management office in Dallas, TX.
Applying claims management systems that deliver performance metrics via dashboards will allow adjusters and stakeholders to establish greater visibility to maximize claim file outcomes, expediently and cost-effectively. This includes adjusters having access to real-time notifications, uploads, downloads, and all other pertinent information for greater claims visualization and management.
Clients will also have access to risk modelling, bespoke response planning, and intake support with well-established call center operations, including technology-based claims triage.
"We are excited about our new partnership with Team One. Their commitment to the highest quality claims handling, and technology-driven solutions are a perfect match for Adjusteck, which remains entirely focused on meeting the needs and requirements of our clients.'' David Bosley, Managing Director and Senior Executive General Adjuster at Adjusteck, said. "I am also confident this expansion will set a new standard for how adjusters integrate technology in our industry, particularly for the U.S. marketplace."
Eric Shaw, President of Team One agrees, "We are extremely excited about our partnership with Adjusteck and the symbiotic relationship we share in both Claims Management and Technology driven services. This is where experience and innovation connect."
To learn more about Adjusteck, visit adjusteck.com.
About Adjusteck
Adjusteck is an international Loss Adjusting and Claims Management firm built on human experience and driven by technology. We blend a bespoke approach to technical, complex loss adjusting for clients in the insurance and reinsurance markets with enterprise-level risk mitigation expertise. Our business is primarily with London and other international insurers, managing direct and reinsurance claim assignments globally, or as nominated by insurers to captive multi-national insurance programs and corporations that are significantly self-insured. We offer a suite of claims handling services that includes Casualty, Construction & Engineering, Cyber, Financial, Natural Resources, Property and Specie.
To learn more about Team One, visit www.teamoneclaims.com
The Team One Difference
Team One representatives have been chosen from among the top performers across the United States. We have carefully identified and partnered with experts who fully understand the complexities of providing outstanding claims service, guidance, and claims management for our clients. Our commitment to excellence is supported by coverage experts, client service managers, Executive General Adjusters, fraud investigators, recovery specialists, appraisers, and a host of highly qualified field professionals; All dedicated to providing unparalleled service to our clients and their customers. Our entire team understands the importance of developing long-term partnerships through hard work and dedication. This principle has allowed our company to build a strong foundation within each client we serve.